As promised, let's continue our Polivoks story.
It took quite a while - waiting for missing knob and replacement part from Mouser was rather long. I continued working on this restoration work while managing other DIY projects and my main job. So the restoration took more time then expected. Anyway, I started with cosmetics and did a full repaint job for metal parts of the lid. Here is the result (yes, I happen to have two sets of lids, one was repainted, another is in original condition)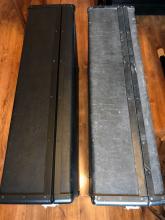 Another thing that needed attention were locks. Original locks were in very poor condition. Even if not broken, they looked very bad. I've managed to find the same locks that are still in production (!) and replaced the old ones. I've also started to carry these locks in the store in case anybody else needs them.
This is how the old locks looked like (and that particular lock was still in the sort-of-working condition):
Here is how it looks like with the new locks:
Because of a different construction of the clip, I had to omit one of the mounting screws. Otherwise the lock won't fix properly.
Another thing that I replaced were screws. The old soviet screws were awful. They looked bad, and they were made from a poor materials. I've installed the new black screws that I use in my regular builds. Here are photos of before and after:
Overall, I'm very pleased with how this cosmetic job turned out. But to be honest, that was not my main goal. My main interest was in the electronic part of this synth, so when components arrived, I started with replacing all electrolytic capacitors and trimmers.
At first I thought that maybe it's not that important to change all trimmers because at this stage the synth will certainly require full recalibration. But given that the old trimmers were open-frame single turn type, I decided to swap them for sealed multiturn ones. The idea was that multiturn trimmers will allow for a much better control over synth settings (and this proved to be very important).
Here is an example of the oscillator board (before and after the replacement):
All caps and trimmers were replaced throughout the whole synth including two motherboards. PSU caps were replaced as well. I managed to fit them on the PSU board directly. I've measured all the old caps with an LCR meter, and quite a few of them showed a huge drop in the capacitance. Some were completely dry and had no capacitance whatsoever.
Another important part is the feel of the potentiometers when you adjust them. Old soviet pots not only were scratchy, but had an awful feel to them. All pots were replaced with modern cermet ones. The difference is night and day. And new pots do not make any noise!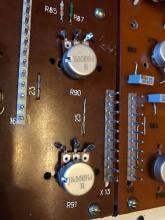 The next thing was to get rid of those old 5-pin DIN connectors and replace them with jacks. This was not that easy to do and required some additional mounting hardware to make everything fit together:
I've also replaced the 2-wire mains receptacle with a standard IEC connector and earthed the metal chassis of the synth.
Finally, I had to readjust all internal circuits and tune Polivoks. I've managed to find an original service manual for Polivoks (which had only 500 copies in circulation in the whole USSR). This service manual has full description of the schematics and complete adjustment procedure. It helped me to consolidate the scattered and sometimes contradictory bits of information that are commonly available on the Internet, and develop a clear and straightforward adjustments procedure for bringing Polivoks to it's original factory specs.
The only thing left to do is make a paraphonic MIDI to CV converter that will integrate inside this synth. I will devote a separate blog article to the MIDIfying of Polivoks. Stay tuned!