Polivoks - a legendary Soviet synth
I've never been into synths. Up to this point. My main interest was (and still is) a recording studio gear. Synths didn't catch my attention. But recently a good friend of mine found this interesting old beast and asked me if I was interested in doing some repair and maintenance job on an old Formanta Polivoks synth. This sounded like an unusual and fun adventure, and I agreed.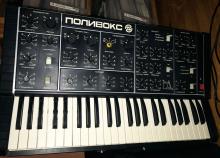 The synth has one knob missing, it missed a power switch cap as well. I had a spare cap at hand, but the big knob is unique to these synths, so I had to search for it in the used market. It should get here soon, I hope.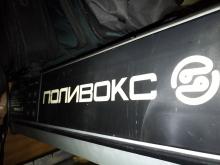 The back side has old style DIN connectors for everything. I will change those to jacks (except a foot controller input).
Boards inside the synth look not that bad. Seems that the manufacturing date is 1987 - that's long ago! One PCB under the keyboard was missing. I had to replace it from a donor synth that I managed to find locally.
All boards seem like paper FR-2, which was quite common for that times. Here's my to-do list for this Polivoks synth:
Replace all electrolytic capacitors with modern parts. Soviet electrolytic caps are not the best caps in the world, especially when they are 30 years old.
Replace all the pots with cermet ones. This may be tricky because there are 6 tuning pots under the top lid. These pots have very short shafts. I'm not sure if I can find such pots now, but I have a couple of ideas how to solve this problem. I'm not going to leave any of these original carbon pots inside - they are too noisy and unreliable.
Replace all the trimmers with cermet ones. The reasoning is the same as for pots. Besides, all original trimmers have an open frame construction which I'm not a fan of.
Replace all the slide switches. Old ones are "tired" and often don't make good contact.
Replace DIN output and input connectors with TRS Jacks.
Replace power inlet to a standard IEC type. I though of leaving it as it is - it's possible to use a C8 type connector. But the synth has exposed metal parts, and current standars demand that all metal parts should be earthed for safety reasons. This means that I'll have to enlarge the cut-out in order for the new connector to fit. Will see how difficult it will be - the metal is quite thick.
Replace the old disintegrating foam rubber on the bottom lid.
Replace the rubber feet (couple of them are missing anyway).
Repaint all exterior metal parts - most of them have signs of significant wear. These are aluminum parts, so painting them is not an easy task.
Replace all the screws. The old soviet screws are awful. They are of the worst quality I've ever seen. And they look miserable.
Replace the top lid locks. These locks are the first to break. They have a rather strange construction - there's a "lip" that sticks out of the lock. It serves two purposes: fix the draw bolt in place, and as a surface for sealing the lock. The problem is that when you put the synth on the side, it lands right on those "lips". No wonder that they break. I've managed to find the exact same locks (which are still in production!), so that I don't have to drill new holes in the lid.
Finally, adjust the internal circuits and retune the synth. VCOs have a special heating circuit that will probably need attention - it's a common problem when these synths drift too much. This is because the heating circuit was not adjusted properly.
Install MIDI - we're living in the XXI century!
Looks like quite a long list. I'll be posting the progress in the blog here. Currently, the most unfamiliar tasks for me are paint jobs. I've ordered the primers and paint and did a test paint of a single part. Results look promising.
Stay tuned!