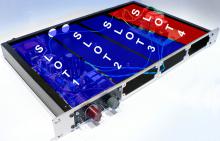 The 4-channel frame system is a 1U enclosure that hosts four slots. Each slot has a standardized cut-out for the front panel and mounting holes for PCBs. These slots can be populated with different modules. Generally speaking, there are two configurations:
with internal PSU (red rectangle) - in this case we recommend populating no more than 2 slots to  avoid interference from the power transformer
with external PSU - in this case it's possible to populate all four slots.
Do we need another modular system? Are there not enough of other systems on the market?
Well, this is a tough question to answer, but we will try. First, let's have a look at the most popular modular system on the market: API 500 series. While it's very versatile, we feel there're several significant shortcomings:
+/-16V supply make it difficult to implement some designs. People resort to noisy DC/DC converters to step up the voltage which sometimes results in additional noise injected into audio bus.
The current available per module is limited. This makes current-hungry designs off-limit to API 500 system.
On the positive side, API system is very user friendly and requires virtually no skills at all - just be able to insert the module correctly.
Now, our 4-channel system has these API 500 shortcomings covered:
Dedicated customizable PSU module, that can supply enough current even for the most demanding designs. Voltages can be varied in a very wide range and depend on the power transformer.
Voltage regulation is carried at each individual module. This reduces crosstalk between different modules through the PSU rails.
PSU can be external, providing even more power.
Of course, this comes at a price of user-friendliness. You need to have some soldering skills and be able to read schematic. But if you are a DIY person, this will not be a problem for you. And benefits are obvious.
The list of available modules and building guides is here. We are constantly working on new designs, so check often to find more exciting builds!