We have got our first 1U enclosure sample delivered today. The case is made according to our drawings and is very robust. Take a look at the parts: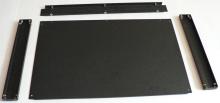 Here are the key features of our enclosure:
Made from 1.6mm steel sheets (14 gauge). These cases are built like tanks.
Unlike cheap enclosures, all parts have steel threaded inserts. This makes connections robust and reliable.
Structured powder coating for neat appearance.
We plan to keep retail price around 80 USD for these enclosures to make quality rack cases truly affordable.
Here is the enclosure without the top lid (back panel will have cut-outs for standard Neutrik XLRs and fused IEC mains power inlet):
And finally...

Isn't she beautiful?!