Finally! The DIY RN73 front panels are here! I've made some photos so you can have a look at those beauties!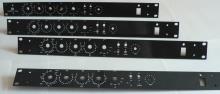 Here is a close up shot of the panel: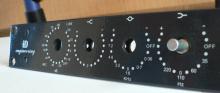 There is still some work to be done but we are very close to the first production run of the panels. We hope to keep the price under 100 USD to make them affordable to every audio DIY enthusiast. These panels have mounting fixtures built in so there will be no fixing nuts on the face of the panel itself. This makes flush mounting of knobs possible.
If you want to place a preliminary order or have any questions feel free to drop us a line via our contact form.