We have two great news for you.
First. The microphone preamp prototype inspired by Neve™ 1073 is finished and is working great. We are waiting for the enclosures to finish the build.
Second. While waiting for the batch of enclosures we are putting together the extensive step-by-step guide to building your own RN73 mic preamp. It will be useful for many audio DIY enthusiasts because of the unique information provided in the guide. Each step is illustrated with the high-resolution photo. Here is a little sample of the wiring page: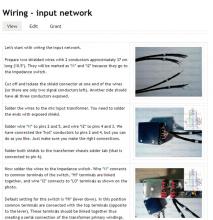 The Guide will be universal. Very few of the steps are tied to our own products (like PCBs and enclosures). We are sure that it will make the life of all builders much easier.
To keep updated and know what is going on, please, subscribe to our newsletter - just enter your e-mail into the box to the left. We promise not to disturb you and send you major news only (like new products availability).